(subscribe)

               
The Official Phineas and Ferb Wiki Newsletter, Issue 80: November 18, 2012
 
News and information from the world of Phineas and Ferb.
 
Crat Corner

by RRabbit42
Get up and nominate
Here in the Untied States, we just got done with our state and national elections. Many people are relieved that we won't have to do this again for another 2 or 4 years. On the wiki, we have our own voting and for the most part, we have a fair number of people choosing which song and episode they want to see featured on the main page for the following month.
This last time, we actually ran short of pictures to vote on. Only six had been nominated and no one had made a nomination for the "Did You Know...?" factoid. I filled in the rest.
On the things we regularly vote on, feel free to make as many nominations as you want ahead of time. When it comes time to vote, we will use a set amount of items to vote on, but we can have more nominations waiting to be used. For example, for picture of the month, the we vote on ten at a time. If we were to get 15 pictures nominated in a month, we would just save the last five for next month.
Our song nominations are like that. Right now, there are nominations for the next five or six months. So we're set for that topic. We could use some extra nominations for the pictures, DYKs and quotes each month.
The Featured Article nominations are a little different. Those use our previous voting system where you state why you support or oppose the nomination to be a featured article. We also tend to look at the votes from the oldest nomination to the newest, plus try to verify that a nominated article is actually in good enough shape to be nominated. It helps to distinguish between an article that is nominated simply because someone likes it versus an article that is well-written.
When we changed to taking nominations ahead of time and using a poll for voting on the other four, the number of votes went up an average of about 10 times as many as before.
I think it may be time we switch the Featured Article voting to the same system. It will make it easier to get a different article added to the main page more often. But it is going to require that people make the nominations ahead of time, just like the other items. That way, we will always have at least two articles each month we can vote on.
Look for that to change in the near future.
Odds 'n' Ends
Mobo's Miscellany

by Mobo85
There's nothing wrong with a little friendly competition (emphasis on the "friendly") now and then, as it seems to bring out the best in both sides as they each work to match the other in quality. And that seems to be the case with Nickelodeon, who recently named Jill Sanford as their vice-president of animation development. Ms. Sanford (shown here with two of her former co-workers) previously served as director of original series for Disney Television Animation, where her duties included overseeing pitches for episodes of Phineas and Ferb. (I blogged about Ms. Sanford's Disney days two years ago.) In addition, the former P&F storyboard team of Kaz Prapuolenis (himself a SpongeBob vet) and Antoine Guilbaud are working on a series for the Orange Network called Blake and the Aliens, a U.S./France co-production about a youngster tormented by a trio of aliens. (Since said aliens are squirrels, perhaps Candace can relate to Blake's situation.) Best wishes to all three of them in their new positions.
Phineas and Ferb has paid tribute to the Star Wars saga many times in a number of comical and loving ways. But the connection between the two has become a little bit closer in more ways than one. With the recent news that George Lucas has given Disney the keys to the Millennium Falcon as he prepares to step down from his position of head of Lucasfilm comes the additional revelation that Lucas also plans to set in motion his long-gestating idea to continue the Star Wars saga. Lucasfilm recently announced that the screenwriter set to pen Episode VII from Lucas's ideas is Michael Arndt. The Oscar-winning scribe behind Toy Story 3 now has a number of projects in motion for the Mouse House: besides Episode VII and an untitled Pixar movie that takes you inside the mind (with the tongue-in-cheek working title of, um, The Untitled Pixar Movie That Takes You Inside The Mind), he's also writing the script for the Phineas and Ferb feature, which was recently delayed to 2014.
Behold the terror of Tryptophan
by RRabbit42
Taking a cue from the picture that Mouseinphilly selected to lead off this issue, this review focuses on the closest thing we've had so far to a Thanksgiving-themed episode.
At this year's Comic Con San Diego, Dan Povenmire and Jeff "Swampy" Marsh were asked if there were any storylines they haven't been able to do or haven't been allowed to do. Most of the time, it's a case of not being able to figure out how to make the storyline happen, or it wouldn't fit the structure of the show. "Monster from the Id" is probably the closest we'll get to a "dark" episode because it shows us the things Candace fears and worries about.
As usual, she's watching Jeremy and being overly obvious about it. When he drops something as he's walking by, Candace finds out it's a present he was going to give to her, which she promptly loses. Phineas and Ferb are helping Baljeet and Irving overcome some of their own fears, but they agree to help Candace remember what the present was like so they can make another one by going inside her own mind. In there, her fears, anxieties and emotions take on physical form, such as flying Palms of Sweatiness. And a monster that represents her Id, "the embodiment of her deepest, most primal urges". For Candace, that's not so fun, but Buford thinks it's a riot and winds up giving tours to Isabella and the Fireside Girls when they show up later.
Agent P is a bit early for today's confrontation and inadvertantly gives Dr. Doofenshmirtz an idea for today's scheme: make an Underwear-inator so that people will suddenly find themselves in their underwear in public and will be too embarassed to prevent him from taking over the Tri-State Area. During their fight, the Inator helps Baljeet rescue everyone from Candace's Id, except for Buford, who has decided to stay and bond with it.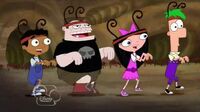 "Gi-Ants" premiered on the same day as "Id", at least on Disney Channel, and starts off with Candace talking with Jeremy over the phone. Her teddy bear made from baklava turns out to be more of a hit with the local ants than with Jeremy. From there, it's just a small step for Phineas and Ferb to make a giant-sized ant farm with enlarged ants.
As Agent P enters his lair, Major Monogram is preparing a new way of delivering his briefing mission because Carl hasn't learned that croquet is an outdoor sport. When he meets up with Dr. Doofenshmirtz, Agent P gets a lesson in how Tryptophan can help Doofenshmirtz take over the Tri-State Area with his Turkey-inator.
But back in the ant farm, Candace winds up becoming their queen and spurs them on to complete a remarkable evolutionary change in under an hour. A queen is no longer needed for their society and a helpful burst from the Turkey-inator gives them a snack to take with them on their journey amongst the cosmos
"Monster from the Id" offered a couple of cameos from some familiar faces like the Talking Zebra, but "Gi-Ants" is my favorite of the two with its callback to Candace's stint as the Queen of Mars, the Friends reference, and yet another tidbit about Monogram's time at... The Academy.
---
Hands-on with the P&F merchandise, part 55

by RRabbit42

Two years ago, Toys R Us included a full page of Phineas and Ferb toys in their Christmas wish book. Last year, they didn't have any. This year, they included The Perry Files in their "buy $40 in Disney movies and get a $10 gift card" offer. I would have loved to have seen more, but it's a start in the right direction. Until they give it a more prominent place, let's take a look at what else they and another store have that you can use to decorate your room.

First up is the Agent P floor rug, manufactured by Jay Franco & Sons (JF&S). Two feet tall by three feet across. This looks like it's a pretty durable rug which you could use at the entrance to your room. But don't put it in front of the fireplace. It's made out of 100% cotton. It's available at Target for $19.99.

at Target.

For these next items, I actually can't demonstrate them fully because they are made to fit a twin size mattress and my bed is a larger queen size.

JF&S has a bed sheet set that comes with one flat sheet, one fitted sheet and one pillowcase for a twin size bed. It took me a little bit to figure out that the second pillowcase they show on the cover is actually the back side of the first pillowcase that has Agent P on it. It's a 60% cotton/40% polyester blend. You'll find this one at Target for $21.99.

If you're looking for something really soft, check out JF&S's Micro Mink fitted sheet and pillowcase set that's made from 100% polyester. It's $26.99. You'll need to add a flat sheet, but you could get that from the previous set, or borrow it from the Where's Perry sheet set that Target has for $26.99, or the JP&F bed sheet set that Toys R Us has for $29.99.

If you're looking for something to add on top of your bed, Target has a comforter for $32.99 that they display with the first bed sheet set. Or there's a more complete set from Toys R Us that also comes with a reversable comforter, pillow sham and bedskirt in addition to the fitted sheet, flat sheet and pillowcase. That's normally $64.99, but it's currently listed for $51.99.

A couple alternatives to a comforter would be to add a micro raschel blanket or throw. For those who might not remember when these kinds of blankets were reviewed in a previous newsletter or haven't read that far back yet, raschel is a type of weaving for blankets.

The one on the left is made by JF&P from 100% polyester and measures 62"x90". Target has it for $19.99. To its right is a "throw" by the Northwest Company also made from 100% polyester. It measures 46"x60" and is $14.99 from Target.

One more throw blanket that Target has available is a sherpa throw. The fibers are longer in the style of a sherpa lining for a coat, but the 100% cotton is just as soft as the polyester of the other blankets. This one comes in a canvas tote bag and is $16.99.

Next to that is a sleep pillow, which the Target website calls a "cuddle pillow". In the picture to the right where the corners are secured together to make it round and take up less shelf space. It's a traditional rectangular pillow. Also 100% polyester, for $9.99. You know, I just realized that with the pillow rolled up like that, it looks more like Michael Jackson than Agent P.

This last item is one that I wish I had had when I was a kid. I can remember lying on the floor with a blanket pulled over the register so that when the heating system came on, the air blew the blanket up like a tent.

As you can see by the picture, this is a tent with straps that fit over the corners of a twin size mattress to hold it down. It looks like it has flaps that hang straight down, but no zipper or other fastener. Since this is an indoor tent, that's all it needs. You'll need four AA batteries for the push light, and you can pick it up from Target for $24.99.

In an upcoming review, I will have a few more items that you can use to decorate your bedroom. Might not be in the next issue, but maybe the one right after that.
Coming in two weeks:
Hands-on with the New Merchandise showcases this year's new Phineas and Ferb Christmas Ornaments.
Recent episodes review
Other articles to be determined (submissions wanted - send to RRabbit42 or use the Newsletter submissions page)
Got a question or comment about this issue? Leave them below.
Ad blocker interference detected!
Wikia is a free-to-use site that makes money from advertising. We have a modified experience for viewers using ad blockers

Wikia is not accessible if you've made further modifications. Remove the custom ad blocker rule(s) and the page will load as expected.