(subscribe)

               
The Official Phineas and Ferb Wiki Newsletter, Issue 83: January 5, 2013
 
News and information from the world of Phineas and Ferb.
 
Crat Corner

by RRabbit42
A call for admins
A month ago, I left messages for some of our admins to check in so we could see how they're doing. Either they have been pretty busy or haven't responded yet. I also have to deal with a pesky thing called work, but have been able to keep fairly active on the wiki.
Unfortunately, this has meant that Patrickau 26 has had to do most of the work on maintaining the wiki. To help keep things running and to help him out, there's two things we can do. The first is that any current administrator can return and begin editing again.
The second is something that we need everyone's help with: electing a new administrator. On January 26, we will start taking nominations again for admins. What I would like people to do for the next couple of weeks is to make note of the users who are especially helping to make the wiki better, and consider if they would make a good admin. Read through the Becoming an administrator section of our administrators page to see what it takes to qualify.
The requirements are a little more strict that you might find on other wikis, but it has a couple of benefits. Once a person has become an admin here, they have more than demonstrated that they can be trusted. We also have been able to avoid some of the conflicts, power struggles and abuses of administrator privilege that I have seen on a few other wikis.
When you figure out who you'd like to nominate, go to our admin nominations page after January 25th and submit their name. Be sure to leave them a message on their Message Wall to alert them that they've been nominated. They have to accept the nomination before it can go any further.
Right now, let's elect just one administrator. This will give the other admins a chance to get active again. If it looks like they still need some time off, then we will add another.
My reviews
Having just talked about being more active again, I'm going to wimp out on an episode review and a merchandise review for this issue. I have a couple things saved up that can go in an upcoming issue, but with the holidays and my computer acting like it's running on molasses, there just wasn't time to try them out. I should be able to get back on track with reviews next issue. Or, if someone else wanted to do a review of either an episode or something they bought, I would really enjoy seeing that, like Mouseinphilly's Season 4 Premiere review that you can read below.
Odds 'n' Ends
The Numbers Game: The 2012 Year-In-Review-Inator
by Ryan Stoppable
You know it's a new year, it's a brand new beginning. We know we're on the right track, but we are going to look back. And what better way to take a numerical look back at the past year in the world of Phineas and Ferb than the fourth annual The Numbers Game Year In Review-inator?
On the whole, TV ratings were not as strong as they were last year, but a few highlights stood out. The two-part "Where's Perry?" cliffhanger in July and August was the centerpiece of the 2012 programming slate, and it did not disappoint in the ratings. In fact, Part Two was the most-watched new episode of the year, drawing 4.29 million viewers home on August 24 and setting a new series high for the Tweens 9-14 age group. Not to be left behind, Part One checked into the third spot with 3.73 million viewers. Slotting in between them was "Sipping with the Enemy / Tri-State Treasure: Boot of Secrets", which was seen by 3.85 million viewers on June 22.
Also notable in 2012 was Where's My Perry?, a physics-based puzzle game released on June 28 for Apple and Android devices. Much like the steam utilized to help get Agent P to his lair, the game quickly shot to the top of the charts in the iTunes Store and Google Play Store alike, becoming the number one paid app on iTunes at one point. The Android version had also shared in its success - it alone has seen over 5 million downloads of the free demo, and has sold over 500,000 copies of the full version in the 6 months since its release. (Editor's note: there is also a board game version that includes tips for the Agent P version of the video game.)
Several pieces of previously-reached merchandise continued to find success in 2012. The 2010 "Holiday Favorites" soundtrack reached the year-end Billboard Kids Albums chart for the first time, finishing at No. 24. It joins "Phineas and Ferb" (2010 and 2011) and "Across the 1st and 2nd Dimensions" (2011) in having appeared on that chart. Speaking of last year's wildly-successful Disney Channel Original Movie, its video game adaptation has now sold over 1 million copies worldwide across all platforms, bringing total sales of the series just shy of three million units.
With that, we turn our attention to another 365. Highlighting 2013 for Phineas and Ferb is the show's second one-hour special (and first official crossover), "Phineas and Ferb: Mission Marvel". In addition, Season 4 is set to continue following its strong start last month, leading the show past Wizards of Waverly Place's Disney Channel record of 106 episodes. Hopefully, we'll also get some more merchandise, including the "Animal Agents" DVD scheduled for release on February 26. Until then, you know it's a new year full of Big Ideas, busting and -inators, and you won't want to miss a minute!
Review: The Season 4 Premiere

by Mouseinphilly
Well, as expected, the Mayans were wrong on the fate of the third rock from the sun. And also as expected, everyone's favorite animated program started their fourth season here in North America, just as sure as the sun rises in the east. And to kick it off on December 7th, it was a winter treat to start out on the good foot. The opening was rewritten by the crew to be timed into the holiday break you get from school, work or whatever you are doing in mid-to-late December and even re-used the "making snow angels that fly" line with a new illustration of a jet-powered snowman with wings and a halo. And no, I wasn't kidding.
Onto the first part of this episode, "For Your Ice Only", where the boys are flooding their backyard into a hockey rink, when dad tells them that the Danville Ice Trays have asked them to play between periods of their game that day. So Phineas decides to take ice hockey to the extreme with Hockey Z-9 ("Zed-Nine" to our Canadian friends, eh?) Meanwhile, Perry is informed by Major Monogram that they have no idea what Doof is up to, mostly because the computers are frozen in a brilliant sight gag. We later find out that he's built a Abominable-inator, which as usually happens to Heinz's creations, blows up and provides a spectacular epic fail. Two things you should know about this episode: Hockey Hall of Famer Luc Robitelle makes a guest appearance as himself refereeing the game, and we also get a reference for the first time on-scxreen that Stacy and Ginger Hirano are indeed sisters, as the Fireside Girl asks to take over the computer stating that the she doesn't want to open a can of whipped cream on her or something to that effect. Nice reference with the then-WWF "Attitude" era and Stone Cold Steve Austin would be proud of it.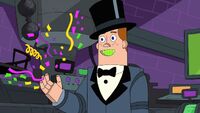 And with that transition, we continue onto "Happy New Year!", where the gang is at the Garcia-Shapiro residence to ring in the new year, and we get a Phinabella moment about what will happen at midnight. Meanwhile, Agent P runs off to get his debriefing from Major Monogram, his office if cold, and the ruse of where he and Carl are is disrupted and are actually in Aruba with the heating repair guy; by then, Perry is a shivering (or chattering) block of ice. Anywho, Francis tells Agent P that Doof is going to the New Years' Eve party at City Hall with yet another intention to take over the Tri-State Area by using a Resolution Changer-Inator disguised as a bow tie, and Norn, his junk pile of a pseudo-son robot, celebrates too early. Meantime, Candace has resolved not to bust her brothers, but realizes it's before midnight, as the crew, and some of their friends build a giant ball akin to the one at Times Square, and drop it from space. That would be enough for Doof to turn on that bow tie, and it works, only to realize that nobody sticks to their resolution. There's also a Canderemy moment as they kiss for the first time since "Summer Belongs to You!" and the official shark jumping (if it has not occurred yet) of the Gangnam Style dance, which give or take a few hundred. However, it's still over eight-and-a-half billion hits behind the digital remix of "I Am a Superstar". And there's seven billion people on the planet.
All in all, a great celebration of winter, a fun way to start to the season and a good time to celebrate the arrival of the new year. The first regular episode of Season Four, "Fly On the Wall", debuts on January 11th and the following week, seek out the premiere of "Bully Bust", both at 9 PM ET/PT on Disney Channel. And please, don't be like Norm and kiss your air conditioner.
Coming in two weeks:
Hands-on with the New Merchandise
Recent episodes review
Other articles to be determined (submissions wanted - send to RRabbit42 or use the Newsletter submissions page)
Got a question or comment about this issue? Leave them below.
Ad blocker interference detected!
Wikia is a free-to-use site that makes money from advertising. We have a modified experience for viewers using ad blockers

Wikia is not accessible if you've made further modifications. Remove the custom ad blocker rule(s) and the page will load as expected.