(subscribe)

               
The Official Phineas and Ferb Wiki Newsletter, Issue 84: January 20, 2013
 
News and information from the world of Phineas and Ferb.
 
Crat Corner

by RRabbit42
It's Administrator Time!
Well, almost. In a week, administrator nominations will be open again. I think we've heard back by now from all of the admin staff that are able to respond. Another administrator is definitely needed and it may actually be two before too long.
As mentioned last time, a candidate to become an admin needs to show that they are working to help the wiki. They also need to show discretion, so that they're not overly strict with kids that might be playing around while editing, but also enforcing our rules when it's clear that it is vandalism or the like.
Watch for the nominations to open up next Saturday.
A new Featured Article voting method
It was pointed out to me that we're due for a new Featured Article again. When I checked the ones that had been nominated, a few didn't even have any votes. I think it's a cycle that is kind of self-feeding: we're not putting up new Featured Articles very fast, so everyone kind of forgets about voting on them, which means we don't have a lot of votes to make a selection for an article.
A featured article is supposed to present our best work to the public that comes to our main page to see what's happening. That's why when the other four items we vote on were switched to a different style of voting, this one stayed as is.
It may be time to change that. We could use the same method for selecting a featured article as we do the other items: take nominations ahead of time and then present them in a poll to pick a winner. We haven't done this before because that tends to be a popularity vote rather than a vote for the quality of the article. But I think it could still work as long as when an article is nominated, we go through it prior to voting to see if we can clean up any problems it may have. That's similar to how I go through the pictures and upload better looking versions if they're available.
We're getting close to 1,900 pages, so there should be plenty to choose from. If it works well, we should be able to have a new featured article on a more regular basis, and eventually have a new article every month. If nothing else, more people will vote if it's in a poll than if they have to say why they're voting in favor or against a particular choice.
Odds 'n' Ends (Compiled by Mouseinphilly)
Mobo85 reports in his new blog entry that Majesco Entertainment will develop new Phineas and Ferb video games for multiple platforms to be released sometime this August.
Back on November 4th, we told you about the British Academy of Film and Television Arts (BAFTA) Kids' Vote and the nomination of our favourite (note the UK spelling) show on the telly. Voters worldwide chose Good Luck Charlie as the winner with Jessie second and Tracy Beaker Returns (a show not seen in the USA) third. Looks like we'll all try harder next time.
Retro Review: It's Gnome-ageddon
by RRabbit42
This is the first review I am writing from the new computer, and I am still getting used to the new version of iTunes. Apple seems to have taken out a couple of features that I liked, including doing a frame advance, which means you have to use iTunes plus another program like QuickTime to get all the features back that you used to have in version 9. Sometimes newer isn't always better.
Last year Dan Povenmire and Jeff "Swampy" Marsh were asked about Doofenshmirtz's backstories. They started out simply enough, but became almost a contest between the different writers to see who could come up with the most bizarre tragic event in Heinz's life. "Lawn Gnome Beach Party of Terror" was the first episode to show us how rough he had it as a child.
When Agent P investigates why lawn gnomes are disappearing around the Tri-State Area, he learns that Doofenshmirtz was forced to take the place of his family's protective lawn gnome after it was repossessed. We never find out why it took him several decades to seek revenge on everyone else, but this is Heinz Doofenshmirtz we're talking about. He seldom passes up a chance to make good on a petty grudge, no matter how old.
But while things are going on underground, up top, Phineas and Ferb decide to beat the heat by making their own beach party. Adding water to their sandbox doesn't cut it, so in one of their first instances of showing how they can bend the laws of physics, they convert some of their neighborhood into an extended beach, complete with a lake big enough to go parasailing in.
Since this was the second episode shown, it's easy to point out what it was first in, but two of those firsts are pretty notable. This is the first time that Candace benefits from her brothers' Big Idea and tries to prevent her mother from seeing what they are doing. This is also the first time where Linda realizes that Candace hasn't called her and seeks out her daughter to find out what is wrong. Later on, Linda would take it more in stride, getting used to the daily antics of her high-strung teen.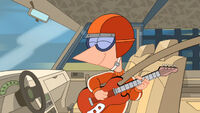 On another morning of wondering what to do today, the answer comes to Phineas and Ferb when they hear the race cars taking practice laps at the nearby motor speedway at the beginning of "The Fast and the Phineas". A bit of work converts mom's car into a remote-controlled race car. After Isabella volunteers the services of the Fireside Girls to act as pit crew, they enter the Swamp Oil 500 and win, despite Candace's efforts to bust them at such a public event.
High above in a blimp, Dr. Doofenshmirtz comes up with another of his schemes that doesn't have much purpose to it: deflate everything in the area so that everyone will have to come to him so they can be "flated" again. The test-firing causes a colision on the race track involving an advertising sign that somehow was placed on the track itself, but all of the drivers were okay. The fight between Agent P and him causes the blimp to crash and Dr. Doofenshmirtz temporarily stealing the car. Fortunately, Agent P was able to rescue the car and return it home, where Linda was overjoyed that it had been washed.
This episode marks the first time we meet Vivian Garcia-Shapiro, Isabella's mother, though it would take several more episodes before we would learn her first name. Just as the Flynns and the Fletchers are a blended family, Vivian and Isabella are a part of another blended family, embracing many aspects of both their Mexican and Jewish heritages. It's nice to see both portrayed in a good and fun way.
---
Hands-on with the P&F merchandise, part 57
by RRabbit42
After missing a couple of issues, the merchandise review is back. Some of my items got packed up over the holiday, so this time it's a review and a spotlight of two items.
Many issues ago, I reviewed three earbuds and headphones that were platypus-inspired. If I remember right, the headphones that iHome made produced the best sound. Now I have another product from iHome that also does a great job with music.
Under their KIDdesigns and eKids brands, iHome has released a stereo speaker for any MP3 player, iPod, cell phone, computer or anything else with a standard headphone jack. Just over 5" wide and 3" tall, this battery-powered speaker includes a sloped front where you can set the device it's connected to, but you cover up Perry's face when you do that.
There is just a power switch, so all of the volume is controlled through the player. When I hooked it up to my computer, it did such a great job amplifying the music that I had to turn the volume control on the computer almost all the way down to keep it from being too loud. That's pretty impressive. I have used other battery-powered portable speakers that did almost nothing to increase the volume. Since these definitely don't have that problem, about the only improvement I can think of would be to add a dial so that you can quickly adjust the volume instead of having to adjust the device it's connected to.
Toys R Us has it for sale at $19.99 on their website and in their local stores, or you can order it fro the same price direct from the iHome website. You will need four AA batteries.
Agent P's primary goal is to protect the citizens of Danville from the schemes of Dr. Doofenshmirtz. Now he has a new role: helping to protect your health.
NatureSmart has a line of gummie vitamins/mineral supplements for several Disney series like WALL•E, Cars, Finding Nemo, Disney Fairies and Phineas and Ferb. For P&F, Agent P adorns the packaging, and inside are the shapes of Phineas (grape), Ferb (cherry) and Agent P (orange).
They seem to have a good mix of the vitamins and minerals they provide, with different values for 2-4 year olds and for people 4 and above. Yes, they do list adults in the second group. It's listed on the package, but it's easy to overlook that you're supposed to take two instead of just one, so the bottle with 60 gummies is good for 30 days, and the bottle with 180 gummies will last 90 days.
Target only has it in stores. I forgot to check the price, but I think it was around $10 for the 180-gummie bottle. You can also find these for sale through Amazon.
Coming in two weeks:
Hands-on with the P&F Merchandise
Recent episodes review
Other articles to be determined (submissions wanted - send to RRabbit42 or use the Newsletter submissions page)
Got a question or comment about this issue? Leave them below.
Ad blocker interference detected!
Wikia is a free-to-use site that makes money from advertising. We have a modified experience for viewers using ad blockers

Wikia is not accessible if you've made further modifications. Remove the custom ad blocker rule(s) and the page will load as expected.