(subscribe)

               
The Official Phineas and Ferb Wiki Newsletter, Issue 93: June 6, 2013
 


Crat Corner
by RRabbit42
Comic-Con is coming
In mid-July, San Diego will once again host Comic-Con International, a great place to learn about your favorite movies, comics, TV shows and more. This is such a big event that the tickets and hotel rooms sell out very quickly, so for most of us, we have to wait for videos of the panels to be posted to YouTube and other places.
Hub Network is holding a sweepstakes to win a trip to Comic-Con. Much like Disney Channel, Nickelodeon and Cartoon Network, The Hub has a mix of cartoons and live-action shows that can be watched by pretty much anyone. I've caught a few reruns of Animaniacs and Batman Beyond and found I really missed those shows.
The sweepstakes that The Hub is running is open to people 13 and older who live in the lower 48 (all US states except Alaska and Hawaii) and Washington, D.C. Rules and details are on the website at http://www.hubworld.com/comic and runs through Sunday, June 9th. That's not very long from now, but the sweepstakes only began on June 1st, so they really kept the time range narrow.
Cartoon Voice Imitation Contest
While there will only be one winner in The Hub's sweepstakes, there will be three winners in a contest by the upcoming I Know That Voice documentary. If you can do an imitation of a cartoon character, post a video of it on the I Know That Voice Facebook page. The winners get an autographed poster and the I Know That Voice DVD.
A recent interview revealed that it took over a year to film all the interviews and they are trimming down 160 hours of recorded interviews down to a 90-minute documentary. I think it's going to be a great production and I hope that if they ever get around to making a special edition, they should include at least some extended-length interviews. Or if we're going to dream big, how about all of them on a couple dozen DVDs or Blu-ray discs, a la that 31-disc $500 "Harry Potter Wizard's Collection" from last year.
Featured article nominations and voting
The switch to the new voting for the Featured Article seems to have gone well. Thirty people have voted so far and there's still three weeks to go. During these next three weeks, we need to have at least two more nominations for the voting that will start in July, and we need people to look over those nominations to make sure they're ready to be voted on. Head on over to the Featured Article voting nominations page and give us a hand, won't you?
Odds 'n' Ends
The Buzz on Another Two Angles Within One Story

by Mouseinphilly
The following review is brought to you by the letter B and by the number two. I apologize for going all Sesame Street on you, but this is an appropriate intro for the review of "Bee Day" and "Bee Story", the third one story from two perspectives program that Bert and Ern - whoops, Phineas and Ferb have done. You may remember "Unfair Science Fair" and "Unfair Science Fair Redux (Another Story)" from the first season as well as "Bubble Boys" and "Isabella and the Temple of Sap" in season two.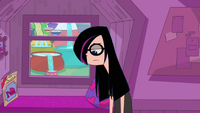 The first half starts out with a song celebrating the day in question followed by Lawrence starting a bee-pun exchange and turns with memories of Linda remembering a young Candace in a Ducky Momo wading pool. Phineas then decides (after the wipe) to build the ultimate wading pool, and Isabella arrives to get lost in Phineas-Land once more. We learn that Candace goes all "emo" (notice I didn't slip another Sesame Street line about Elmo) through a test which she miscalculates, Dr. Doof traps Perry with a big fly swatter while making swat puns and the bees escape the Pheromone-inator just in time, and we are introduced to the reason Heinz and Charlene are divorced...a puppet called Mister Tomato.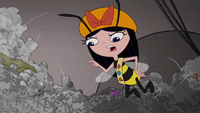 And now, onto the Bee Story, literally and figuratively. Isabella and the rest of Fireside Girls are returning from the aforementioned Bee Day ceremony when they find their hive emptied out while away. Pinky heads off to see Admiral Acronym about what Professor Poofenplotz is up to with royal jelly, and introduces us tp Carla, who comes from a family with an history of unpaid interns. We get references to go from "Fly On the Wall" and National Lampoon's Animal House (a film not recommended for younger viewers by the way) in Isabella's speech inside a vacuum cleaner, Ginger leads the gals in a Waggle Dance from a suggestion by Baljeet.
What grade does this story get? Bee, of course.
Another website lost
by RRabbit42

Mouseinphilly posted a blog on Tuesday called "Thanks for the LIVE Memories" that reported Disney's Phineas and Ferb: The Best LIVE Tour Ever! would not be coming back for a third tour. While it's sad that the show has ended, at least we got to enjoy it for two tours.
But what's even sadder is that the website for the tour is gone. This is another case of people thinking that information doesn't need to be saved. It's as if they say, "Well, that's done. Let's get rid of it." But there are people like you and me who are still interested all parts of Phineas and Ferb, past, present and future, not just what's currently available.
I have seen this before. The people who are paid to be a part of a show or organization sometimes don't have the same level of commitment or interest as someone who is a fan. Fans will put in extra effort because they love a show or a particular subject and they do it because they want to share what they love with others.
Now, when I say "paid to be a part of a show", I am not referring to people who work directly on the show and receive a paycheck because of that. Rather, it's the periphery: the people who are brought in from the outside to handle a particular feature. The ones where the job may not be much more to them than a job.
Historians, singers, musicians, and architechs will study all of the work by people in their field, so that they not only see what was made, but how it was made, how one piece evolved into another, and the thoughts and intent of the person(s) who created it.
So what can us fans (and historians) do to help make sure information relating to Phineas and Ferb isn't lost? I discussed this back in April, but in short, save what you can while you can. You never know when it's going to be taken away from you because someone else thinks you don't need to have it any more.
Coming in two weeks:
Hands-on with the New Merchandise
Recent episodes review
Other articles to be determined (submissions wanted - send to RRabbit42 or use the Newsletter submissions page)
Got a question or comment about this issue? Leave them below.