(subscribe)

               
The Official Phineas and Ferb Wiki Newsletter, Issue 95: July 4, 2013
 


Crat Corner

by RRabbit42
Registered users now active
As announced, on July 1st, Wikia adjusted our wiki and many others so that you have to have an account to edit and talk here. Since the last issue, I have learned a few new things about this, the most important of which is what to do when if we find out someone is underage. The good news is that we're not required to block underage users. That's something we need to decide if it's an appropriate step to take, but Wikia does expect us to notify them so they can handle the account.
Details like this are going to go on a number of pages so people will know what to expect. I have also identified a couple of system messages that can be updated so that when someone tries to edit without an account, they can see why they can't and get help with creating an account.
For the policies that have to change to meet this new requirement, I will ask the other admins to review what I change to make sure I get it right. Our normal process is to propose a change and give everyone a chance to vote on it, but we really don't have time at the moment to do it that way. For future issues that don't have a deadline by coming from Wikia, we'll go back to the standard proposal and voting method.
P&F on the Disney Channel Wiki
The Disney Channel Wiki wants to feature Phineas and Ferb on their front page. We need to select a picture to go with the summary.
If you know of a great picture that represents the spirit of Phineas and Ferb, head on over to the appropriately-named Best "this is P&F" picture forum. Let's choose one by Sunday, July 7th.
Odds 'n' Ends
When you go to your Message Wall, you may need to click on the highest number page at the bottom of the list to see the newest messages.
We're still looking for some artists to create a special Wikia backdrop for Mission Marvel debuting August 9th at the D23 convention in Anaheim, August 16th on Disney Channel and August 25th on Disney XD (aka "The Emoticon" as per Ryan Stoppable). Leave a message with me along with your submission, and hopefully, we'll have it up soon. Our newest administrator, Mobo85, has the full details on Mission Marvel in this blog post. Congrats to Mobo on his election to administration.
Whilst on the topic of Mr. Stoppable, his latest blog on the ratings for "Great Balls Of Water" / "Where's Pinky?" can be found right here.
Comic-Con Cometh Again

by Mouseinphilly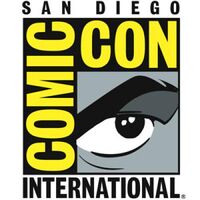 Once again, the geek gods and goddesses of the world as we know it will be converging on sunny San Diego, California once again for the annual rite of summer that is best known as Comic Con International. And, in a tradition as old as time, Phineas and Ferb will be having a panel discussion with Dan, Swampy, Vincent and a few other voice actors as well with a guest moderator overseeing it all. And topping it all off, we'll get to see a sneak preview of an episode not seen anywhere else.
The good news if you can't head west, Wikia will be there to cover the event again from July 17 through 21 for the whole ball of wax. We will let you know the date and time of the P&F panel via a blog from either me, Mobo85 or RRabbit42. Until then, well, you know what to do.
Eyes and ears-on with the P&F merchandise, part 62
by RRabbit42
No, you didn't read that wrong. This time the merchandise review is for a wholly electronic item, so there's no hands involved, except for what it takes to obtain and start them up. And, the merchandise review also includes an episode review.
How did we get a merchandise review and an episode review in one? Let's find out.
On May 20, 2013, a new item became available in the iTunes Store called "Phineas and Ferb: 104 Days of Summer!" This is the 104 episodes that you can find in what iTunes calls "Season 1" through "Season 9", with the following notes:
It includes the first 6 episodes in "Season 9", which goes up to "Bee Day"/"Bee Story".
It does not include "A Phineas and Ferb Family Christmas", which is in "Season 7" as "Phineas and Ferb's Family Christmas Special".
It includes two bonus episodes, which can only be purchased in this set from iTunes. They are not available from Amazon's Instant Video.
The two bonus episodes are Mystery Science Theater 3000-style versions of "No More Bunny Business", "Flop Starz", "Perry Lays an Egg" and "The Ballad of Badbeard". Baljeet, Buford, Dr. Doofenshmirtz, Norm, Carl, Major Monogram, Linda, Candace and Stacy sit down in a movie theater and make comments about the "movie" they are watching, which is actually the aforementioned episodes. Two of them can't quite grasp how they could be watching a movie of something they knew already happened. Any guesses on who those two might be?
There's some pretty good jokes in those comments, such as what gives Carl nightmares, noting that most cartoon characters only have three fingers (plus the thumb), and a reference to Happy Days. Doofenshmirtz also makes a comment about looking up orange moss on the Internet. Guess what? If you do that, Phineas and Ferb Wiki comes back as the number 2, 3 or 4 result, depending on which search engine you use.
In a normal episode review, I would provide more details about what happens, but in this case I can't really do more than give you the overview above because it would spoil the jokes for you. Maybe later on we can create transcripts for each one and add in what references and allusions are included.
One thing I almost forgot to mention is the artwork. In MST3K, you'd see a silhouette of Joel or Mike and the Bots sitting in movie theater chairs as they watched the movie they were sent by The Mads. But for the P&F versions, the chairs and the people sitting in them are partially lit so that you can see the edge of the chairs and some of their faces. You can see the expressions on their faces and when they blink. This is exactly what you'd see in a movie theater because the light from the screen is reflected back onto the chairs and people in front of you. Another example of the type of detail Dan and Swampy and the rest put into this show. (Click on the picture to enlarge it so you can see the lighting effects.)
This is also an unusual merchandise review because I can't tell you exactly what it will cost to buy this set. How much it costs you depends on how many episodes you already bought.
You're going to pay $49.99 for either the HD or SD version. Unless you've got an iPod or iPhone that can only handle the SD versions, skip that and go straight for the HD version. It will look much better on your computer, especially if you have a large widescreen monitor. Before you start the purchase, go into the Preferences to the Playback section and make sure "High Definition (1080p)" is selected for the Preferred Video Version. I don't know if it affects the quality of the episodes you download, but do it now and at the very least they will play in the best quality available.
If you've never bought any of the episodes, this is the best bargain yet. That $50 breaks down to 47 cents per episode, which is 85% off the individual episode cost of $2.99 each. That's the really expensive way to go, so here's how to get the most cost-effective purchase from iTunes if you've never bought any of the episodes before:
Buy the "104 Days of Summer!" set for $49.99
Buy "Phineas and Ferb's Family Christmas Special" from Season 7 for $2.99
Buy a season pass for Season 9 for $19.99
You'll wind up with duplicates of the first 6 episodes in Season 9, but buying the 2 episodes that were just released plus the 5 yet to come is more than $20, so just get the season pass and ignore the duplicates. (There are 12 or 13 episodes per "season" in iTunes.) That totals $72.97, which is about 65 cents per episode. Still a good bargain.
Now, what if you've already bought the episodes? Well, then you will have to decide exactly how much you want those two bonus episodes. If that's the only two you don't have, then you're paying $24.99 each. You can reduce the effective cost per episode if you get the set with the intent of replacing SD versions of the episodes you bought before, but you're still forking out fifty bucks to do so.
This, unfortunately, is a common practice in the TV and movie industry. When they re-release a movie or TV show, or even when they release a special edition along with a regular edition, there is usually at least one thing that is not included in one of the sets. Buying the "better" (more expensive) version doesn't always guarantee getting everything because sometimes that's the set that is missing an item that you'll find in the regular version. Both of these methods encourage the people who want to get everything to buy it more than once. Or twice, or three times, depending on how many times something is released in a slightly different version.
In my case, I have bought the same episodes a few times each. First it was the SD versions of Season 1 and 2, back when iTunes actually had their seasons match the broadcast seasons. After HD versions became available, I bought those. Right about then is when iTunes started shuffling the episodes around into volumes of 13 episodes each, which they now call a season, so some I got in a season pass and others I bought separately. Plus this "104 Days of Summer!" re-release, just so I could tell you about the bonus episodes.
I don't really have a complaint about what it's cost me to buy these episodes. It's been worth it to me to pay extra to support the show and so that I could share with you what I learned. The only actual complaint I have is all of these episodes show up in iTunes in the "No Season" group. If the iTunes Store was going to sell a special set, they could have taken a few minutes and made it so that they are shown in a special group on your computer. I can probably organize them later, but the end user shouldn't have to do this. It should be done ahead of time when they were made available to purchase.
To wrap up, this is a great set to buy if you don't have any or very many of the episodes. If you've already got all or most of the episodes, you might want to wait before trying to get these two bonus episodes. Maybe they will made available separately in the future so you only have to pay about $6 to get them.
For the next issue, we'll take a look at a game that I have been waiting to buy. It was in a store I didn't expect to see it in, which saved me from having to order it across the Internet.
Coming in two weeks:
Hands-on with the Merchandise
Recent episodes review
Other articles to be determined (submissions wanted - send to RRabbit42 or use the Newsletter submissions page)
Got a question or comment about this issue? Leave them below.
Ad blocker interference detected!
Wikia is a free-to-use site that makes money from advertising. We have a modified experience for viewers using ad blockers

Wikia is not accessible if you've made further modifications. Remove the custom ad blocker rule(s) and the page will load as expected.