(subscribe)

               
The Official Phineas and Ferb Wiki Newsletter, Issue 96: July 21, 2013
 


Crat Corner

by RRabbit42
That's right, you're wrong
I delayed working on the newsletter for a few days because I wanted to see if there actually was going to be some announcements from Comic Con, but as of Sunday evening, it doesn't look like much is available yet on YouTube. So, in terms of "What's cool at Comic Con", I am going to turn it back over to Mouseinphilly for the moment and direct you to his May The Ferb Be With You: Phineas Meets Star Wars blog. We'll check back during the next week or so and see if the panels get posted.
Countdown to Mission Marvel
It's now less than a month until "Phineas and Ferb: Mission Marvel" premieres on Disney Channel, followed by the Disney XD premiere just over a week later. Thanks to some advance planning by Mouseinphilly, we already have a background ready for the wiki. Alfa9delta stepped forward and made one. That will be put in place around the first of the month.
Odds 'n' Ends

Hands On With The New Merchandise: Isn't It A Bit Early For Christmas Ornaments?

by Mouseinphilly
Responding to the title, the answer is "No. No it isn't." As I type this article, the Eastern part of the good old United States of America is in the throes of a heat wave. You know what this means, right?
No, not poolside parties. Christmas. Remember last year when I reviewed "A Phineas and Ferb Family Christmas"? I briefly explained that I was an administrator over at Christmas Specials Wikia. And there was marketing efforts for "Christmas in July" and so on and so forth, yada yada yada, et cetera et cetera... Enough about the past.
The first two Phineas and Ferb-themed ornaments have arrived, and this year, they will have a turquoise-and-tangerine-hue on the old evergreen tree as it were. Hallmark and Disney Parks are first out of the gate this season with their ornaments, and both feature Agent P, semi-aquatic egg laying mammal of action.
The first, from Hallmark, features Perry riding his scooter in order to stop Doofenshmirtz's lastet whatever-it-is-inator Orville Wilson designed this piece, and it costs $15 plus tax at Hallmark locations and a few major retailers like CVS.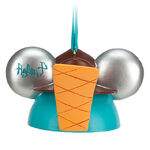 The second one, sold at Disney Parks and through The Disney Store website, is a limited edition Ear Hat ornament is signed by Corey Reynolds and also by Agent P (a first we believe) on the back as well. It's available for $23 plus shipping and handling here.

Next issue, RRabbit42 will take up shopping (among other places at The Disney Store) for the items that are tied into Mission Marvel.
Mom! Phineas and Ferb are becoming real estate tycoons!
by RRabbit42
It's been nine months since the Phineas and Ferb edition of Monopoly was released and it's taken this long for me to find one in a local store. I really expected to find it in Toys R Us, but Barnes & Noble had it a few weeks ago. Even though I could have bought it online, I prefer to buy things in local stores whenever possible so I can see it for myself, and because sometimes I'll find other things while I'm looking.
Most of you are familiar with the game. If not, I'll refer you to Wikipedia for details. So let's concentrate on how Hasbro Ferbified this game.
First are the game tokens. Phineas, Ferb, Candace and Perry are included, along with Agent P's fedora and the Doofenshmirtz Evil Incorporated building. I'm not sure why they chose that instead of Dr. Doofenshmirtz. Perry, the fedora and the DEI building are fairly solid and large. The other three are thinner and proportional in size to each other.
At this point, I'm going to stop and issue a warning. The Phineas, Ferb and Candace pieces in your set may look like they're at an angle. If they are, do not try to straighten them out. I went a little too far with trying to straighten Ferb up and when I went back the other way, the base broke off. Since this is a collector's edition of the game, I don't think that replacement pieces are going to be available and I don't think I can glue or solder the base back on.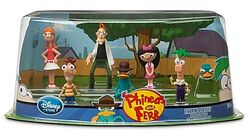 If you're kind of rough or aggressive when you play games, I recommend that you use different pieces. In fact, a really good set to use would be the 7 piece Phineas and Ferb Figure Play Set sold at the Disney Store for $12.50 (or $10 each if you buy two or more play sets). They're bright, colorful, have sturdy bases and are small enough they can still fit on the board. Plus, you get Doofenshmirtz, Isabella and Agent P.
Houses become Big Ideas but still look like houses. Hotels become Inventions but still look like hotels. Fireside Girls cards take on the role of the Chance cards, while Good vs. Evil cards fill in for Community Chest.
The pictures on the money are mostly promotional pictures that we've seen before, but I haven't seen that particular one for Candace on the $20 bill, and Perry looks pretty cool in a regular pair of sunglasses on the $500 bill (not the star-shaped "fabulous" glasses he wore in "Vanessassary Roughness").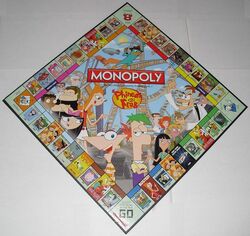 I like the artwork on the box, especially the edges because they include pictures of characters like Major Monogram, Lawrence, Linda, Norm, Carl, Pinky and Peter the Panda. The board itself has a nice custom-drawn montage of even more characters against a backdrop of the rollercoaster. Each property on the board has a location and a picture of a character or two relating to that location.
The only thing that's a little off is the artwork for the Fireside Girls. You have Milly, Katie, Ginger and a girl that looks somewhat like Gretchen without her glasses. It's a picture that had to be drawn from scratch to fit all four of them in, but the the four girls aren't as close to their actual appearance as they should be. With all the custom artwork and pictures that were taken directly from an episode, the different style of how they were drawn kind of stands out and makes me wonder if that particular picture was handed off to a different artist to work on.
Some of the other card and board games I've reviewed have clearly been designed for kids, but this is Monopoly, so the entire family can play if you're 8 or older. They also include directions on a "Speed Play" version that you can get through in 60 to 90 minutes.
The Phineas and Ferb Collector's Edition of Monopoly is available for $40 at places like Amazon and Barnes & Noble.
---
Mom! Phineas and Ferb are protecting me from the outdoors!
by RRabbit42
Instead of doing an episode review, I decided to include a second merchandise review. Though there's just over a month left in this year's summer vacation and some of you may be going out camping or on other trips. If you are, then here's a set of four products that can help protect you from the sun.
All Terrain makes a line of sunscreen, sunburn gel and insect repellent which uses natural ingredients instead of chemicals. For the sunscreen, it doesn't have oxybenzone. For the sunburn gel, no paraben. For the insect repellent, no DEET. The sunscreen is available in a cream or a spray, both with an SPF rating of 30, with the cream being noted as fragrance free.
I have been outside for several hours most weekends doing yard work. This time, I decided to try out the sunscreen, first using the spray on my arms and the cream on my neck and ears, then the other way around for the second day. After waiting both times for 15 minutes so the sunscreen could activate, I headed outside to put the flowers in the new flowerbeds I made the week before.
The sunscreen did really good. I didn't get burned and I didn't have to put any more on while I was out, so I didn't need to use the sunburn gel. I've been careful not to stay out in the sun too long, but if something happens where I forget, now I've got something better than just lotion to help fix it.
I haven't been camping yet, so I'm not sure if I'm going to get to try the insect repellent out this year. But if I do go, I'll take it with me and see how it does. If it works like the sunscreen, then it should do just fine.
All four of these are available on the All Terrain website, along with a bottle of the insect repellent that has an Agent P label. Prices from the website are as follows:
3 oz. sunscreen lotion: $13.99
3 oz. sunscreen spray: $15.99
4 oz. sunburn gel: $8.49
4 oz. insect repellent: $9.99
There's other sizes available there and on other websites like Amazon. All Terrain also sells them with a Mickey and Minnie Mouse label. That label and the P&F label cost about $1.00 more than the regular All Terrain version, but that's due to licensing those characters for their products.
I think I saw either the All Terrain or the Mickey/Minnie Mouse bottles last time I was at Target, so that's another place you can check if this kind of product interests you. But it may still be worth it to spend a little bit extra to get the P&F brand to show your support for the show. After all, out of all the Disney series they could have chosen, they only picked two and Phineas and Ferb was one of them.
Coming in two weeks:
Anything and everything on the long awaited Mission Marvel episode, including a special Hands-on with the New Merchandise
Recent episodes review
Other articles to be determined (submissions wanted - send to RRabbit42 or use the Newsletter submissions page)
Got a question or comment about this issue? Leave them below.
Ad blocker interference detected!
Wikia is a free-to-use site that makes money from advertising. We have a modified experience for viewers using ad blockers

Wikia is not accessible if you've made further modifications. Remove the custom ad blocker rule(s) and the page will load as expected.