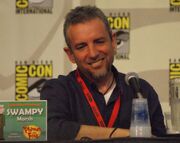 As many people know, today's Jeff "Swampy" Marsh birthday (he's now 51 years old). I want to thank him for co-creating this awesome show which I (and lots of users in this wiki) are in love with. He surely is a great guy! I wish a lot of happiness and succes for his life!
Ad blocker interference detected!
Wikia is a free-to-use site that makes money from advertising. We have a modified experience for viewers using ad blockers

Wikia is not accessible if you've made further modifications. Remove the custom ad blocker rule(s) and the page will load as expected.