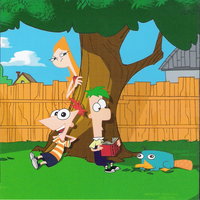 When a new Phineas and Ferb episode came out called "Phineas and Ferb's Quantum Boogaloo" on TV a couple of days ago, I was astonished. I mean, it's a sign that Phineas and Ferb keeps getting better and better. After that, I saw a promo for "Phineas and Ferb Musical Cliptastic Countdown". And guess what, I'm so excited for that too! Along with the clip-show (special episode), there will be a lot of brand new episodes out October such as "Bubble Boys", "Isabella and the Temple of Sap", "Cheer Up Candace", "Fireside Girl Jamboree", "The Bully Code", and "Finding Mary McGuffin". That's 7 episodes in one month! Also several other episodes with unknown dates such as a currently Untitled Lindana episode, a Wizard of Oz parody, and "Undercover Carl" I look forward too also.
Season 2 looks like it's going to end soon, probley by the end of November. But with Season 3 on the way, Phineas and Ferb will be sure to "do it all" summer vacation. A new DVD appears to be on the way, but before I can tell more news on Phineas and Ferb, go on YouTube and enjoy one of your favorite episodes of the show and remember, much more is on the way!
Ad blocker interference detected!
Wikia is a free-to-use site that makes money from advertising. We have a modified experience for viewers using ad blockers

Wikia is not accessible if you've made further modifications. Remove the custom ad blocker rule(s) and the page will load as expected.