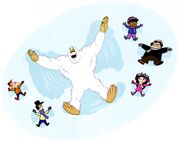 Hi everyone! I am sorry about not uploading "Picture this". I will try to get it up as soon as possible. This photo, Possible Picture this episode picture, might be from a Phineas and Ferb Book. Well, if it is from the book, heres a sneak peak. If its from the episode, another sneak peek. I hope to have Picture this up as soon as possible.
Thanks!
--Phineas and Ferb Rocker 23:52, November 4, 2009 (UTC)
Ad blocker interference detected!
Wikia is a free-to-use site that makes money from advertising. We have a modified experience for viewers using ad blockers

Wikia is not accessible if you've made further modifications. Remove the custom ad blocker rule(s) and the page will load as expected.