If you've read Topher's blog, you know that we started a message board for the wiki. While we didn't get as many people testing the message board as we would have liked, things seem to be going fairly smoothly. We haven't run into any new problems, so it looks like we can open the message board earlier than expected.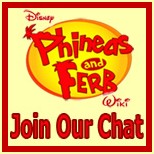 Starting now, you can go to the board at http://phineasandferb.freepowerboards.com/ and sign up for an account. We're going to try to make sure that people can keep the same user name there as here, so when you sign up you should get a message asking you to confirm your registration back here. This should prevent people from stealing user names and we can fix it if they do.
As part of the grand opening, Topher and I will be on the IRC for quite a bit to answer questions and provide help. At least one of us should be available from 21:00 to 07:00 UTC (5pm-3am Eastern time) on Monday, Tuesday and Wednesday. The same "Join Our Chat" link you see to the right is on the main page (the Portal) of the message board. This is the #phineasandferb channel on irc.freenode.net, if you want to use a chat client instead of the web-based chat the link takes you to.
People that have never been on a message board that is running phpBB should visit the "Information & Help Desk" to read the following messages:
Those will give you some directions on what's different about a message board as compared to a wiki. Everyone should also read Rules & Regs for Posters to see what kind of behavior we expect people to exhibit while on the message board. A lot of it is the same kind of thing we expect here, just stated in a different way.

So, with the launch of the message board, we now have following ways members can talk to each other, and we'd like to see everyone start using the appropriate method for the type of conversation they want to have:
Blogs: for announcements and to get feedback on an article you are working on.
Forums: for official Wiki business and general questions/discussions.
IRC: to hold a real-time conversation with other people.
Message Board: for more social conversations (but not real-time), including topics not related to the show.
— RRabbit42 (leave a message) 04:10, March 29, 2010 (UTC)
Ad blocker interference detected!
Wikia is a free-to-use site that makes money from advertising. We have a modified experience for viewers using ad blockers

Wikia is not accessible if you've made further modifications. Remove the custom ad blocker rule(s) and the page will load as expected.