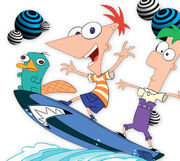 Yeah, the Disney Channel Animated Show is nominated on the Kids Choice Awards (is this 27th.) for 'Favourite Cartoon'
Go to: www.youtube.com/redirect?username=revistabomba&q=http%3A%2F%2Fwww.nick.com%2Fkids-choice-awards%2Fvote%2Fcartoon&event=url_redirect&url_redirect=True&usg=F2LXwlQ_OOSoowYf4ZtuTUt72ec= and vote them!!!
Go P&F!!! :D
Ad blocker interference detected!
Wikia is a free-to-use site that makes money from advertising. We have a modified experience for viewers using ad blockers

Wikia is not accessible if you've made further modifications. Remove the custom ad blocker rule(s) and the page will load as expected.