thumb|300px|right|My awesome youtube video honoring Agent P.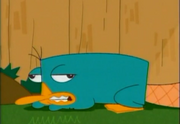 Okay we all know that Perry the platypus is so far the most awesome platypus ever. If you don't know what he looks like (Which would be weird because he appears in every episode) I've posted two pics of him. One in his pet mode and one of him in spy mode.e. Anyways since now that I posted some pictures of Perry I think now would be the right time to show you the grand prize. Here is my youtube video called "Perry The Platypus (Most Awesome Platypus) which honors Perry in every way! Did you like it? Please post a blog featuring your favorite Phineas and Ferb Charartar and honor it. I'll pick which blog is the most supporting! Bye! Travisplatypus 02:56, October 26, 2011 (UTC)
Ad blocker interference detected!
Wikia is a free-to-use site that makes money from advertising. We have a modified experience for viewers using ad blockers

Wikia is not accessible if you've made further modifications. Remove the custom ad blocker rule(s) and the page will load as expected.