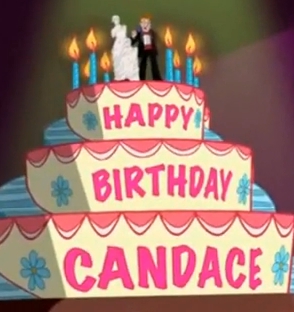 Hi every one! Have you forgotten something! It's Candace's birthday! July 11th! Happy birthday to Candace Flynn!
You decided to celebrate this events? Tell me! Give her a birth card? Flowers? Or the impossible nicest gift ever! Phineas and Ferb have done the monument for her at Mt Rushmore moment ago!
How do you feel what important today? The important of the hottest event of the year, double with July 2nd, Ashley Tisdale's birthday?
Now this wiki and other members: Spanish wiki, Dutch wiki, Portuguese wiki and Vietnamese wiki has made a pink pink half "o" circle head background for her, instead of Phineas's triangle style! To celebrate on July now!
The second thing, the movie premieres, she has an important role - captain of Team resistance against Doof 2nd Dimension! Cool huh? Why don't we celebrate for her?
Please tell me your idea about it!
••• Xiao Qiao ♥☎ leave a message ☎♥ 09:23, July 11, 2011 (UTC)
I have a special to you! This art is draw by Jackishere, this is so cool, thanks you Jackishere, Happy Birthday to Candace Flynn everyone!
Ad blocker interference detected!
Wikia is a free-to-use site that makes money from advertising. We have a modified experience for viewers using ad blockers

Wikia is not accessible if you've made further modifications. Remove the custom ad blocker rule(s) and the page will load as expected.