My favorite way to win...
This article is about a contest and/or sweepstakes sponsored by Disney and/or one of their licensees/sponsors using Phineas and Ferb characters. The contest is currently going on or has ended, depending on the date the article was either created or updated.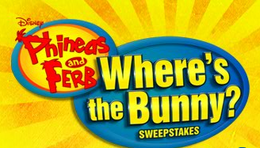 Where's the Bunny? was an Agent P-themed Nestlé Nesquik powder container contest co-sponsored with Disney Channel that ran between September 1, 2011 and March 31, 2012, the grand prize of this contest was a trip to Walt Disney World in Florida, along with a Phineas and Ferb experience.
To be a hero like Agent P, you needed to find the secret code in the Nesquik container and go to Disney.com/WheresTheBunny to try to find the Nesquik Bunny. It was hinted that Dr. Doofenshmirtz was the one who kidnapped the Nesquik Bunny.
Free Downloads
Phineas & Ferb Soundtrack Song: Brand New Reality (While supplies last)
Phineas & Ferb Desktop Wallpaper
Mission: Super Agent Game
Phineas & Ferb Desktop Clock
Nesquik Desktop Spy Scanner
Phineas & Ferb Printable (learn to draw Agent P)
External links