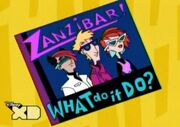 Zanzibar was a New Wave band from the 1980s. They are noted for their 1982 hit single "What Do It Do?", a song based around reverse engineering.
Noted former pop singer Linda Flynn loved the band as a teenager and the aforementioned single was her inspiration for becoming a pop star. Heinz Doofenshmirtz on the other hand referred to the song as only being in his top 7 or 8 songs about reverse engineering.
Background Information
The band, with its odd foreign name and style of dress, most likely references the electronic and New Wave eras of music, e.g. Kraftwerk and Devo.
Zanzibar shares the name of a Rocko's Modern Life episode Dan and Swampy directed together. Said episode also seemed to foreshadow what type of show the two would later make together.
Jeff "Swampy" Marsh provided the voice for the lead singer.[1]
Zanzibar is the name of an island of the coast of Tanzania
References
Ad blocker interference detected!
Wikia is a free-to-use site that makes money from advertising. We have a modified experience for viewers using ad blockers

Wikia is not accessible if you've made further modifications. Remove the custom ad blocker rule(s) and the page will load as expected.